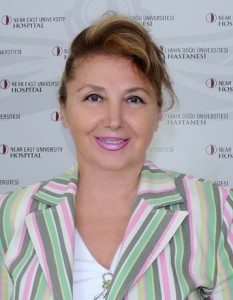 Near East University (NEU) Faculty of Medicine is the first Faculty of Medicine of the Turkish Republic of Northern Cyprus. It had its grand opening on the 20th of July, 2008 coinciding with the 34th anniversary of The Peace Operation, and started its first academic year on the 7th of October, 2008 with its first "white coat ceremony".
The primary aim of the Near East University Faculty of Medicine is to provide medical education, pre, and post-graduation as well as continuing medical education. Through this education, it aims to educate students who are able to solve the problems they may be faced with, who believe that medical education is a lifelong education and are dedicated to serving humanity, who are respectful towards their patients, considerate and accountable, and who are of high caliber. The language of education is English and an organ/system-based integrated system is implemented as the method of education. The curriculum is planned with a multidisciplinary approach in mind.
We want to educate our students so that they know and can use the most up-to-date scientific knowledge in order to make the best and correct diagnosis and implement the appropriate treatment, command the vast accumulation of modern medicine, keep themselves up to the date and reflect the innovations in medicine with regards to treatment and diagnosis. In modern medicine, the physician is not responsible just for the diagnosis and treatment of the patient. Because of this, we train our students to value public health and preventive medicine greatly and take on an educator role in the public.
Medical doctors who graduate from our Faculty will contribute to the collective universal medical knowledge with the research they will conduct about preserving health and the causes, consequences, and treatment of diseases. They will also help shape health policies regarding these issues.
Our vision as a faculty is to become a sought-after and well-respected center in medical education and scientific research as well as health care provision. Our University is further strengthened by its modern curriculum, research laboratories, and its hospital which was established with the best possible technology and the academic staff who can use the power of scientific education to enlighten the public and embrace the future of the public.
NEU Faculty of Medicine with regard to its quality of education, educational staff, infrastructure, laboratories equipped with the latest technology, and modern educational hospital facilities was accepted by World Health Organization (WHO) Avicenna Group (March 2013, Geneva-Switzerland).
Science is a matter of expertise and merit. Medical science is long. It requires devotion and is arduous. If you set foot on this road, you should never give up and become a go-getter. If you ask where this road ends, you should know that there is no end. Medical education is life-long. It is a science and an art form that constantly renews itself, improves itself, and is very competitive. It requires practical intelligence and able hands. Most important of all, it requires a smiling face for the patients and their relatives.
Each of our most beloved students will graduate from the Near East Faculty of Medicine with all the above-mentioned qualities and as inquisitive and dedicated medical doctors. They will commit themselves to health, the most valuable possession of a person, and they will always be very proud of their Faculty.
Prof. Gamze MOCAN, MD
Dean, NEU Faculty of Medicine